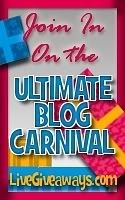 I have grown up worshiping the sun. I spent all my childhood summers at the pool and was also a lifeguard for a few years. I loved being tan, I still do. I never really did much to protect myself from it and I should have. I learned that just one severe sunburn during a child's first fifteen years could double the chance of developing skin cancer as an adult. Frightening, I know. I think just about everyone knows someone or knows of someone who has skin cancer. I came across a company called
UV Skinz
. They produce stylish mens, womens and childrens swim shirts and accessories that provide 50+ spf. Now that I'm a mother and have lost my grandmother to this fatal disease I make it my mission in the summer to make sure that my daughter is protected from the sun.
Rhonda Sparks (who is AWESOME by way!) is the President of UV Skinz and founded the company in 2005. I highly reccomend all my readers to read
Darrens' story
to fully understand the foundation on which this company was built.
Rhonda let me choose which item I would like to test out for the review. I chose the
Brown Aloha Collection
skinz for Taylor. I wasn't too sure on what size to pick, they start at a size 2 and go up to a 14. She's in a 3T right now so I went with a 4 and I think the size is perfect for Tay, not too big and not too small. As long as she doesn't go on a mega growing spree over the winter she should be able to wear these next summer too. Like anything else that is for her, Tay loved her new skinz. She wanted them on right away and I couldn't get them off her until bathtime that evening! I'm thinking she really liked the soft almost silky feel of the material. I have a seriously funny kid. I know she will be living in her
Skinz
this summer since most our days are spent at the pool. I always put sunscreen on Tay and will continue to do so even with her skinz. It's nice to know that there will be alot less converage area for me to apply sunscreen to. One of my favorite features on the shirt is the higher neckline, Tays neck is a tough spot for me to apply sunscreen too. I always worry if I missed a spot or If I didn't put enough on. I wish we would have tried a different brand previously so I would have something to compare it too, tho that might be a good thing because now there is no chance I will. I'm an official UV Skinz lifer!
TOP 10 SUN SAFETLY TIPS
1.Seek the shade, especially during the sun's peak hours (10:00am – 2:00pm).
2.Wear a broad-spectrum sunscreen with a sun protection factor (SPF) of 15 or higher.
3.Cover up with clothing, especially a broad-brimmed hat and UV-blocking sunglasses.
4.Avoid tanning parlors and artificial tanning devices.
5.Keep newborns out of the sun.
6.Teach children good sun-protective practices.
7.Examine your skin from head to toe once every month.
8.Have a professional examination annually.
9.Avoid tanning and especially – do not burn! (One blistering sunburn doubles your risk for skin cancer.)
10.Wear UV Skinz during water play!
Rhonda has generouly offered one lucky winner any
UV Skinz
item of their choice from the site. Head on over tot he site and let me know what you would love to have.
For extra entries you may:
- sign up for UV Skinz monthly newsletter (home page, top left)
- blog about this giveaway and post the link here
- Subscribe to UV SKINZ
blog
- following/tweeting about them on
Twitter
- follow me and tweet this giveaway (links in my sidebar)
- enter another giveaway here and tell me which one.
Contest is open to US residents only and will end 5/14/2009 at midnight. Winner will be chosen via random.org and once contacted will have 72 hours to resopnd otherwise a new winner will be chosen.
Happy entering!!!